Hello everyone! Happy Monday :)
I hope everyone had a great weekend. The family and I went to our trailer. It was a nice weekend spending time with the family. Unfortunately when we got there it was a bit of a shock and somewhat disturbing to find out that they had hail last Tuesday the size of golf balls and some trailers were damaged. of course one of them was ours. Our awning needs to be replaced, and so does our covers for our vents, as they were shattered. We taped garbage bags over the vents, cleaned up the mess and just had a pleasant time. What else could we do? We will have to see what the damage will cost and see if it's worth making an insurance claim.
Anyways it's time for the Motivational Monday Blog Hop!
Everyone can use a little Motivation, especially on a Monday. So get on the Motivational Monday Blog Hop and share some Motivation with others. Plus it a great way to get new followers to your blog and to find some great blogs out there as well.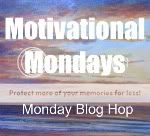 Hosted By: What's On My Mind
The Rules for Motivational Mondays:
1. Not mandatory but please share a motivational, inspiration poem, quote, story, or video. What ever you think might bring some inspiration or motivation to others.
2. Add your blog to the list.
3. It would be great if you could grab the button & the link code to post on your blog.
4. Follow me your hostess above, then as many other blogs as you would like.
5. After you follow a new blog make sure you leave them a comment letting them know that you are now a follower so that they can follow you back, and please follow others back if they leave you a comment that they follow you.

OK, NOW BEFORE YOU LINK UP AT THE BOTTOM, HERE IS A MOTIVATIONAL POEM! ENJOY!!!!
Thinking
I
f you think you are beaten, you are
If you think you dare not, you don't,
If you like to win, but you think you can't
It is almost certain you won't.
If you think you'll lose, you're lost
For out of the world we find,
Success begins with a fellow's will
It's all in the state of mind.
If you think you are outclassed, you are
You've got to think high to rise,
You've got to be sure of yourself before
You can ever win a prize.
Life's battles don't always go
To the stronger or faster man,
But soon or late the man who wins
Is the man WHO THINKS HE CAN!
- Walter D. Wintle - 1905
OK now link up on the Monday Motivational Blog hop and have a great day!
~~~~~~~~~~~~~~~~~~~~~~~~~~~~~~~~~~~~~~~~~~~~~~~~~~~~~~~~~~~~~~~~~~~~~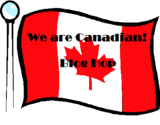 Hey if your Canadian like me, check out this new Blog Hop!