I hope everyone had a wonderful weekend! We had a wonderful long holiday Canada Day long weekend. We spent it at our trailer and had a surprise Birthday party for my step-father, he will be 65 on July 07th. We got the family together, including my sister and brother, which was a real surprise for him, because he just thought he was coming to visit us and have supper. It turned out great! But the best thing that happened this weekend was the birth of my beautiful granddaughter Zion. Her pictures are on the post before this one.
Also I would like to wish all my American friends a Happy 4th of July!
Now it's time for the Motivational Monday Blog Hop!
Everyone can use a little Motivation, especially on a Monday. So get on the Motivational Monday Blog Hop and share some Motivation with others. Plus it a great way to get new followers to your blog and to find some great blogs out there as well.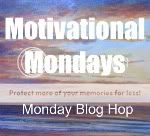 Hosted By: What's On My Mind
The Rules for Motivational Mondays:
1. Not mandatory but please share a motivational, inspiration poem, quote, story, or video. What ever you think might bring some inspiration or motivation to others.
2. Add your blog to the list.
3. It would be great if you could grab the button & the link code to post on your blog.
4. Follow me your hostess above, then as many other blogs as you would like.
5. After you follow a new blog make sure you leave them a comment letting them know that you are now a follower so that they can follow you back, and please follow others back if they leave you a comment that they follow you.
OK, NOW BEFORE YOU LINK UP AT THE BOTTOM, HERE IS A MOTIVATIONAL QUOTE THAT I WROTE AND WAS PUBLISHED LAST WEEK ON MotivateUs.com! ENJOY!!!!
" To be successful, you must love and believe in what you do! You must have belief in yourself! Anything is possible with belief!"
Written in 2011 by Jennifer McLennan --- Canada

I truly think if you don't have belief in what you are doing and in yourself, there is no chance in success. But if you do have the belief, all things are possible!
OK now link up on the Monday Motivational Blog hop and have a great day!
~~~~~~~~~~~~~~~~~~~~~~~~~~~~~~~~~~~~~~~~~~~~~~~~~~~~~~~~~~~~~~~~~~~~~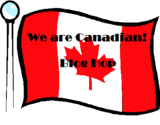 Hey if your Canadian like me, check out this new Blog Hop!