Good morning and welcome to another Motivational Monday Blog Hop! I hop you all enjoyed a great weekend. I had a very busy weekend wrapping Christmas gifts, decorating the tree, and making home made gifts from the heart. I am very much looking forward to Christmas this year. The kids will be all home Christmas eve and Christmas day. I get to watch my little 21 month old grandson Broly open his gifts, it's going to be so cute.
PLEASE NOTE* THERE WILL BE NO Motivational Monday Blog Hop again until the New Year. We will start up again January, 09 2012. Until then, please have a Blessed Christmas and a Safe and Happy New Year!
Now on the the hop: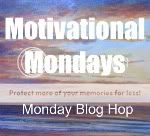 "Monday Motivational Blog Hop!"
Everyone can use a little Motivation, especially on a Monday. So get on the Motivational Monday Blog Hop and share some Motivation with others. Plus it a great way to get new followers to your blog and to find some great blogs out there as well.
Click Here to continue...............