Sorry that today's Motivational Monday blog hop is so late. I was busy working on my flower garden on Saturday, then my husband and I went fishing yesterday with another couple, and we got home really late. When I got home I was so tired and sore I just couldn't get myself on the computer.
This morning I slept through my alarm, and didn't wake up until my husband called me on the phone, then I was so stiff and in pain I could hardly move. I suffer from fibromyalgia, and have constant pain, but sometimes it's much worse when my muscles are really fatigued. Morning are always my slowest part of the day.
Anyways today I could really use some motivation, and I certainly always like to share motivation with others, so I am going to still do the hop even if it is late and run it longer that normal.
So here we go!
Everyone can use a little Motivation, especially on a Monday. So get on the Motivational Monday Blog Hop and share some Motivation with others. Plus it a great way to get new followers to your blog and to find some great blogs out there as well.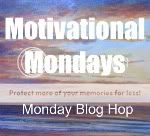 Hosted By: What's On My Mind
The Rules for Motivational Mondays:
1. Not mandatory but please share a motivational, inspiration poem, quote, story, or video. What ever you think might bring some inspiration or motivation to others.
2. Add your blog to the list.
3. It would be great if you could grab the button & the link code to post on your blog.
4. Follow me your hostess above, then as many other blogs as you would like.
5. After you follow a new blog make sure you leave them a comment letting them know that you are now a follower so that they can follow you back, and please follow others back if they

leave you a comment that they follow you.
OK, NOW BEFORE YOU LINK UP AT THE BOTTOM, HERE IS SOME MOTIVATIONAL QUOTES AND A VIDEO FROM ONE OF MY FAVOURITE MOTIVATIONAL SPEAKER JOHN MAXWELL

.






"People do not care how much you know until they know how much you care."




"If we're growing, we're always going to be out of our comfort zone."




"Life is 10% of what happens to me and 90% of how I react to it."




"Leaders must be close enough to relate to others, but far enough ahead to motivate them."




"A man must be big enough to admit his mistakes, smart enough to profit from them, and strong enough to correct them."




.


OK now link up on the Monday Motivational Blog hop and have a great day!