Hello everyone! Welcome to the Motivational Monday Blog Hop! I hope everyone had a wonderful weekend. I finally got out to rake my front yard of all the twigs and debris that winter left behind, and I got the earth worked up in my flower gardens. Thankfully I did it on Saturday when the weather was nice, yesterday it decided to snow. come on spring, I so ready for you.
Now it time to start the "Monday Motivational Blog Hop!" Everyone can use a little Motivation, especially on a Monday. So get on the Motivational Monday Blog Hop and share some Motivation with others. Plus it a great way to get new followers to your blog and to find some great blogs out there as well.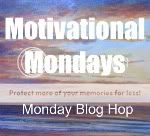 Hosted By: What's On My Mind
The Rules for Motivational Mondays:
1. Not mandatory but please share a motivational, inspiration poem, quote, story, or video. What ever you think might bring some inspiration or motivation to others.
2. Add your blog to the list.
3. It would be great if you could grab the button & the link code to post on your blog.
4. Follow me your hostess above, then as many other blogs as you would like.
5. After you follow a new blog make sure you leave them a comment letting them know that you are now a follower so that they can follow you back, and please follow others back if they leave you a comment that they follow you.
OK, NOW BEFORE YOU LINK UP AT THE BOTTOM, HERE IS A GREAT VIDEO MOTIVATIONAL POEM FOR YOU!
Don't Quit (awesome motivational poem)
~Unknown
When things go wrong as they sometimes will;
When the road you're trudging seems all uphill;
When the funds are low, and the debts are high;
And you want to smile, but you have to sigh;
When care is pressing you down a bit
Rest if you must, but don't you quit.
Success is failure turned inside out;
The silver tint of the clouds of doubt;
And you can never tell how close you are;
It may be near when it seems afar.
So, stick to the fight when you're hardest hit
It's when things go wrong that you mustn't quit.
OK now link up on the Monday Motivational Blog hop and have a great day!
Hey if your Canadian like me, check out this new Blog Hop!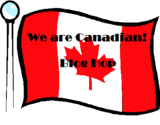 Make everyday a great day!