Finally, my computer is back working. I waited over a week to get it fixed. I can now get back to blogging regularly. Sorry if I haven't got back to any new followers, but I will get to it.
I hope everyone had a wonderful weekend. Mine was good, nice and quiet, but my husband and I got to spend some time together and that is always great!
Now it time to start the "Monday Motivational Blog Hop!" Everyone can use a little Motivation, especially on a Monday. So get on the Motivational Monday Blog Hop and share some Motivation with others. Plus it a great way to get new followers to your blog and to find some great blogs out there as well.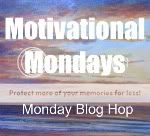 Hosted By: What's On My Mind
The Rules for Motivational Mondays:
1. Not mandatory but please share a motivational, inspiration poem, quote, story, or video. What ever you think might bring some inspiration or motivation to others.
2. Add your blog to the list.
3. It would be great if you could grab the button & the link code to post on your blog.
4. Follow me your hostess above, then as many other blogs as you would like.
5. After you follow a new blog make sure you leave them a comment letting them know that you are now a follower so that they can follow you back, and please follow others back if they leave you a comment that they follow you.
OK, NOW BEFORE YOU LINK UP AT THE BOTTOM, HERE IS A GREAT MOTIVATIONAL POEM FOR YOU!
Just One
Author Unknown
One song can spark a moment,
One flower can wake the dream
One tree can start a forest,
One bird can herald spring.
One smile begins a friendship,
One handclasp lifts a soul.
One star can guide a ship at sea,
One word can frame the goal
One vote can change a nation,
One sunbeam lights a room
One candle wipes out darkness,
One laugh will conquer gloom.
One step must start each journey.
One word must start each prayer.
One hope will raise our spirits,
One touch can show you care.
One voice can speak with wisdom,
One heart can know what's true,
One life can make a difference,
You see, it's up to you!
OK now link up on the Monday Motivational Blog hop and have a great day!