Hello and good morning everyone, sorry this is late! I'll keep the link open longer. Between babysitting my grandson, working my business, caring for my family and my university course (which I completed this weekend), I am getting behind on my blogging.
Hopefully now that my course is over, I'll get caught up.
Let's get this hop going! Enjoy a great day!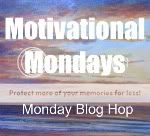 "

Monday Motivational Blog Hop!"
Everyone can use a little Motivation, especially on a Monday. So get on the Motivational Monday Blog Hop and share some Motivation with others. Plus it a great way to get new followers to your blog and to find some great blogs out there as well.
Click Here to continue...............