Good morning and welcome to another Motivational Monday Blog Hop! I hop you all enjoyed a great weekend. I got a lot of Christmas shopping done, which is a huge relief. It was so much fun shopping for my little grandchildren. I had to stop myself, there is so much cute stuff I wanted to buy them.
Well, let's get this hop going and enjoy a great day!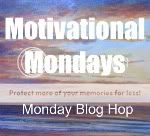 "

Monday Motivational Blog Hop!"
Everyone can use a little Motivation, especially on a Monday. So get on the Motivational Monday Blog Hop and share some Motivation with others. Plus it a great way to get new followers to your blog and to find some great blogs out there as well.
Click Here to continue...............