Motivational Monday Blog Hop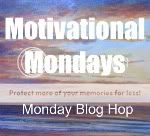 Hosted By:
What's On My Mind
The Rules for Motivational Mondays:
1. Share a motivational, inspiration poem, quote, story, or video.
2. Add your blog to the list.
3. Grab the button & the link code to post on your blog.
4. Follow me your hostess above, then as many other blogs as you would like.
5. After you follow a new blog make sure you leave them a comment letting them know that you are now a follower so that they can follow you back, and please follow others back if they leave you a comment that they follow you.
Today I'm going to share with you some motivational quotes:
" Life is about knowing the world,
Knowing what you want
And then using what you know about the world
To get what you want."


--- Copyright © 1994 S.Mann
" You can attract more bees with honey than with vinegar.
You can, also, attract more people with kindness than with meanness.
Strive to be sweet, kind and attractive."


--- Copyright © 1990 Howard N. Lee
" If the heart is full of love, there is no room for hate."


--- Copyright © 2000 Eddie Dixon
" What is worse than having no sight,
Is being able to see but having no vision."


--- Helen Keller