Motivational Monday Blog Hop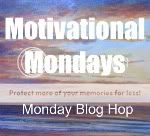 Hosted By: What's On My Mind
The Rules for Motivational Mondays:
1. Share a motivational, inspiration poem, quote, story, or video.
2. Add your blog to the list.
3. Grab the button & the link code to post on your blog.
4. Follow me your hostess above, then as many other blogs as you would like.
5. After you follow a new blog make sure you leave them a comment letting them know that you are now a follower so that they can follow you back, and please follow others back if they leave you a comment that they follow you.

Here are some motivational quotes I'm Going to share with you today:
" Ideas can be life changing. Sometimes all you need to open the door is just one more good idea."


Jim Rohn --- Submitted by Jambunathan N. --- India


Really a Motivational statement that is so possible. We never feel it is available within our range.
" True greatness is not achieved with a quarter-mile lead and no rival in sight; it is grasped in the last hundred feet when one displays pure valiancy and conquers those more capable than himself."


Written in 2010 by Maxwell Schwam --- Tennessee


It was just and idea that came to me while I was laying in bed, restless.
" What you want to be is possible. You can live your dreams. Wish your dreams with all your mind, work your dreams with all your strength, nurture them with your heart and see your dreams turn into reality... live them, they are possible! Dreams can be real after all."
Written in 2010 by Shirley Asiedu-Addo --- Ghana