Motivational Monday Blog Hop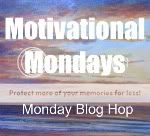 Hosted By: What's On My Mind
The Rules for Motivational Mondays:
1. Not mandatory but please share a motivational, inspiration poem, quote, story, or video.
2. Add your blog to the list.
3. It would be great if you could grab the button & the link code to post on your blog.
4. Follow me your hostess above, then as many other blogs as you would like.
5. After you follow a new blog make sure you leave them a comment letting them know that you are now a follower so that they can follow you back, and please follow others back if they leave you a comment that they follow you.
This week I'm going to share a motivational poem:
May You Have
Author Unknown
Enough happiness to keep you sweet,
Enough trials to keep you strong,
Enough sorrow to keep you human,
Enough hope to keep you happy;
Enough failure to keep you humble,
Enough success to keep you eager,
Enough friends to give you comfort,
Enough wealth to meet your needs;
Enough enthusiasm to look forward,
Enough faith to banish depression,
Enough determination to make each day better than yesterday
Ok now link up and have an inspired day!
Make everyday a great day!
You still want to blog hop you may also want to check out:

Question of the Week:
What material thing is on top of your holiday wish list?
My answer: Nothing! This year my husband and I decided not to buy for each other. We are just focusing on the kids. If there is something I need I will just go out and get it. I really don't need anything, I just want my kids to have a wonderful holiday with the family spending good quality time together.