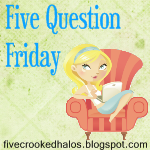 1. Can you drive a stick shift?
No, never even tried.
2. What are two foods you just can't eat?
Lamb and veal.
Just can't do it!
3. Do you buy Girl Scout Cookies? What is your favorite kind?
Yes I do, my daughter was a girl scout for years. If someone comes to my door I always buy cookies in support. My favourite are the chocolate mints.
4. How do you pamper yourself?
I don't.
5. What is your nickname and how did you get it?
Hmmm. I don't have a nickname. Unless you count that me husband calls me beautiful, he has done that since we started dating.