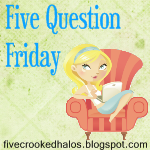 Host: fivecrookedhalos.blogspot.com
1.
Would you rather be on ABC's Extreme Home MakeOver or TLC's What not to Wear?
Definitely ABC's Extreme Home Makeover. We have been renovating our 100+ home for two years, and we have so much more to do. I would love the help or a newly build house that fits the size of our family well.
2.
Do you have any tattoos?
No. Although I would like one, and if I get brave enough some day I will get it. I want a heart with Angel wings. In the heart I want my husbands name, and in the wings I want the kids names.
3. D
o you tell your kids about things you did growing up?
Yes I sure do, but I might not tell them all the details. I certainly don't tell them everything.
4.
If the traffic signal turns yellow, do you stop or speed up?
5. What's your preference: c
hocolate or chips?
Chocolate!!!!!!! I rarely eat chips.
Enjoy a great Friday!