Five Question Friday Blog Hop is a great way to get to know other bloggers. Other than my own blog hop:
Motivational Monday Blog Hop
it's my favourite.
So here we go: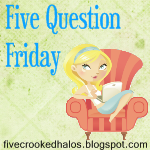 1.
Have you worn the same outfit more than one day in a row?
Yes, if I have had no choice or if I only wore it for a few hours.
2.
If you had to choose any LARGE city to live in, which would it be?
None!!!! I would never live in a large city!
3.
Fly or drive with the kids on vacation?
All depends on the vacation. If we were staying here in Canada, I would want to drive so I could see the country. Plus I would want to camp most of the way. If we were travelling outside the country, then I would definitely fly. Unfortunately we have not been on a real vacation since I have had kids.
4.
What is your idea of "spring cleaning"?
Cleaning out cupboards and doing the extra cleaning you may over look. Also donating old clothes that we done wear anymore. Cleaning out closets of the winter wear and getting out spring and summer stuff.
5.
What is the best book you have ever read?
I am not much of a reader, I just don't have the time. Although I would say "THE SHACK" made a big impact on me.