Can you believe that it is May already? It is nice that Spring is finally here. I hope you all had a good weekend. I spent the day yesterday out side working in my flower beds and doing lawn work. Today my poor body is feeling the pain of all the hard work I did, but I did enjoy getting it done and enjoying the nice Spring weather.
Now it time to start the "Monday Motivational Blog Hop!" Everyone can use a little Motivation, especially on a Monday. So get on the Motivational Monday Blog Hop and share some Motivation with others. Plus it a great way to get new followers to your blog and to find some great blogs out there as well.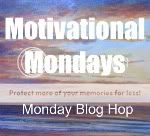 Hosted By: What's On My Mind
The Rules for Motivational Mondays:
1. Not mandatory but please share a motivational, inspiration poem, quote, story, or video. What ever you think might bring some inspiration or motivation to others.
2. Add your blog to the list.
3. It would be great if you could grab the button & the link code to post on your blog.
4. Follow me your hostess above, then as many other blogs as you would like.
5. After you follow a new blog make sure you leave them a comment letting them know that you are now a follower so that they can follow you back, and please follow others back if they leave you a comment that they follow you.
OK, NOW BEFORE YOU LINK UP AT THE BOTTOM, HERE IS WORDS OF MOTIVATIONAL/INSPIRATIONAL FOR YOU! THIS WAS SHARED TO ME BY ONE OF MY TEAMMATES ERIKA. SHE IS ALSO A GREAT INSPIRATION! I TRULY ENJOYED IT AND BELIEVE IN IT I HOPE YOU DO TOO!
BELIEF MAKES EVERYTHING POSSIBLE
In order to succeed, you must first believe you can. The only thing that stands between you and what you want from life, is the will to try it and the faith to believe that it's possible.

The only true limit to your realization of tomorrow will be your doubts of today.
The moment you carry the conviction of belief, in that moment your dream will become reality.

If you think you can, you can.
~Author Unknown
(I tried to find the author of this, but found that lots of different people actually use this saying, but know one credited and author for it.)
OK now link up on the Monday Motivational Blog hop and have a great day!
~~~~~~~~~~~~~~~~~~~~~~~~~~~~~~~~~~~~~~~~~~~~~~~~
Make everyday a great day!