Wow, what a beautiful Mother's Day! The weather was great, and I got to spend a fabulous day with my wonderful children, my amazing husband, my brother, my step-father, and my ever so loving mother! What more could anyone ask for? I hope all you mother's out there had a great day!
I am so happy spring is finally here. We spent most of the weekend opening up our trailer. Thankfully the weather was warm and sunny. It made it so much enjoyable to get all the work done.
Now it time to start the "Monday Motivational Blog Hop!" Everyone can use a little Motivation, especially on a Monday. So get on the Motivational Monday Blog Hop and share some Motivation with others. Plus it a great way to get new followers to your blog and to find some great blogs out there as well.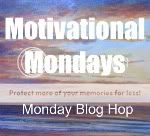 Hosted By: What's On My Mind
The Rules for Motivational Mondays:
1. Not mandatory but please share a motivational, inspiration poem, quote, story, or video. What ever you think might bring some inspiration or motivation to others.
2. Add your blog to the list.
3. It would be great if you could grab the button & the link code to post on your blog.
4. Follow me your hostess above, then as many other blogs as you would like.
5. After you follow a new blog make sure you leave them a comment letting them know that you are now a follower so that they can follow you back, and please follow others back if they leave you a comment that they follow you.
OK, NOW BEFORE YOU LINK UP AT THE BOTTOM, HERE IS THREE MOTIVATIONAL QUOTES FOR YOU!
" You cannot control the world outside, but you can choose what you will bring into yourself. If you do not see anything of value in your life, begin by finding one thing of beauty every day until it becomes a habit."
~Ron Rathbun
" I am shy and afraid that I may fail, but I will not let these doubts conquer my life and dreams. All I have to do is to stand and say: I Can Do This! I Don't Care If I Fail Many Times, I Will Still Try, Try And Try until I get what I want!"
~Written in 2011 by Hermes Lebumfacil
" We are but men and women... your names will echo tomorrow and end today for glory and retribution was your purpose. What you have achieved is incredible; you have lived, loved, creed, smiled, and to give up now... sometimes it is going to be you and me against this world... so I say to you now: get up and take a step forward into to the future. Who knows? It might just surprise you."
~Written in 2011 by Jason Walters Mariner
OK now link up on the Monday Motivational Blog hop and have a great day!
~~~~~~~~~~~~~~~~~~~~~~~~~~~~~~~~~~~~~~~~~~~~~~~~
Hey if your Canadian like me, check out this new Blog Hop!