Hello everyone it's Wednesday, so that means Hump day. Here are a few quotes to get through the rest of the week:
Once we control our capacity for love and happiness, the light has been turned on." ~ Sharon Salzberg
"Most of us would be upset if we were accused of being 'silly', yet it comes from the old English word 'seilig' and it's literal definition is 'to be blessed, happy, healthy and prosperous.' "
~Zig Ziglar
"It's not only children who grow. Parents do too. As much as we watch to see what our children do with their lives, they are watching us to see what we do with ours. I can't tell my children to reach for the sun. All I can do is reach for it, myself."
~Joyce Maynard
"If you want to reach the state of bliss, then go beyond your ego and the internal dialogue. Make a decision to relinquish the need to control, the need to be approved, and the need to judge. Those are the three things the ego is doing all the time. It's very important to be aware of them every time they come up."
~ Deepak Chopra
"Enjoy your life and be happy.
Being happy is of the utmost importance.
Success in anything is through happiness. More support of nature comes from being happy.
Under all circumstances be happy, even if you have to force it a bit to change some long standing habits. Just think of any negativity that comes to you as a raindrop falling into the ocean of your bliss. You may not always have an ocean of bliss, but think that way anyway and it will help it come. Doubting is not blissful and does not create happiness. Be happy, healthy and let all that love flow through your heart."
~ Maharishi Mahesh Yogi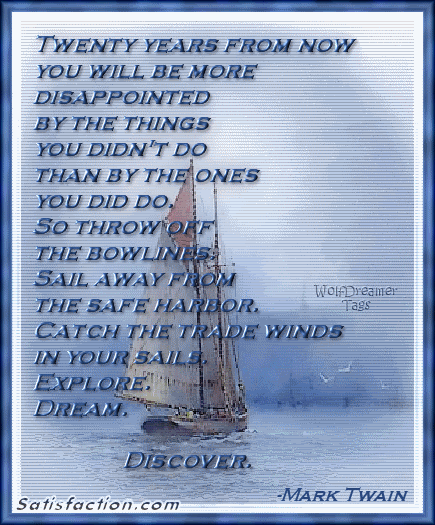 "Fear less, hope more;
Whine less, breathe more;
Talk less, say more;
Hate less, love more;
And all good things are yours."
~ Swedish Proverb
Tip Of The Day:
What lies behind us and what lies ahead of us are tiny matters compared to what lives within us. Live life and do it with you whole heart!