Good morning everyone! I hope you had a wonderful weekend. This weekend was a very busy one, I was doing homework and studying for an exam in the University course I'm taking along with being a mom, and caring for my grandson while my daughter was at work. Thankfully my husband was a great help, so I could get some work done.
Time to get this hop going............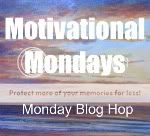 "Monday Motivational Blog Hop!"
Everyone can use a little Motivation, especially on a Monday. So get on the Motivational Monday Blog Hop and share some Motivation with others. Plus it a great way to get new followers to your blog and to find some great blogs out there as well.
Click Here to continue...............