Hello everyone! I'm back from the Christmas holidays, and ready for the kids to get back to school, and me to get back to working on my home business, and my blog.
Did anyone make any New Year's resolutions? Do you even believe in them? I actually don't believe in New Year's resolutions because you can make a new start any time of the year. People need to always think positive and try to be the best they can be all the time. I do believe starting a new year can be a positive look on making it a better one than the last year. Although if you do believe in it that's OK, if it works for you.
Well lets get this hop started. Let's have a little motivation today!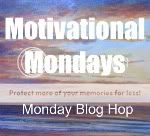 "Monday Motivational Blog Hop!"
Everyone can use a little Motivation, especially on a Monday. So get on the Motivational Monday Blog Hop and share some Motivation with others. Plus it a great way to get new followers to your blog and to find some great blogs out there as well.
Click Here to continue...............