Hello, how was your weekend? I hope it was a good one. I had a very busy weekend, celebrated my sister's 50th Birthday, and had a family get together that we have every year with my family on my mom's side. It's kinda a belated Christmas party. All in all it was a great weekend.
Well lets get this hop started. Let's have a little motivation today!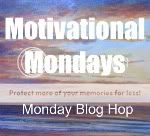 "Monday Motivational Blog Hop!"
Everyone can use a little Motivation, especially on a Monday. So get on the Motivational Monday Blog Hop and share some Motivation with others. Plus it a great way to get new followers to your blog and to find some great blogs out there as well.
Click Here to continue...............