Good Morning everyone! It time for Motivation Monday Blog Hop! I hope eveyone had a good weekend and is ready for a little motivation this fine Monday Morning.
So here we go!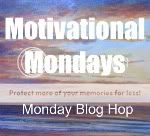 Hosted By:
What's On My Mind
The Rules for Motivational Mondays:
1. Share a motivational, inspiration poem, quote, story, or video.
2. Add your blog to the list.
3. Grab the button & the link code to post on your blog.
4.
Follow me your hostess above, then as many other blogs as you would like.
5. After you follow a new blog make sure you leave them a comment letting them know that you are now a follower so that they can follow you back, and please follow others back if they leave you a comment that they follow you.
You don't have to get it perfect – you just have to get it going. Babies don't walk the first time they try, but eventually they do. - Mark Victor Hansen
True motivation comes from within - from the willingness to see a dream fulfilled - from the desire to leave the world better than you found it. - Steve Brunkhorst
People often say that motivation doesn't last. Well, neither does bathing. That's why we recommend it daily. - Zig Ziglar
When a goal matters enough to a person, that person will find a way to accomplish what at first seemed impossible.
- Nido Qubein
Have an inspired day!
Jen McLennan
You may also want to follow: