Welcome to another Motivational Monday Blog Hop. I hope you have a wonderful day, share your motivation and inspire someone!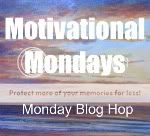 Hosted By:
What's On My Mind
The Rules for Motivational Mondays:
1. Share a motivational, inspiration poem, quote, story, or video.
2. Add your blog to the list.
3. Grab the button & the link code to post on your blog.
4. Follow me your hostess What's On My Mind, then as many other blogs as you would like.
5. After you follow a new blog make sure you leave them a comment letting them know that you are now a follower so that they can follow you back, and please follow others back if they leave you a comment that they follow you.
My Creed
By Edgar A. Guest
To live as gently as I can;
To be, no matter where, a man;
To take what comes of good or ill
And cling to faith and honor still;
To do my best, and let that stand
The record of my brain and hand;
And then, should failure come to me,
Still work and hope for victory.
To have no secret place wherein
I stoop unseen to shame or sin;
To be the same when I'm alone
As when my every deed is known
To live undaunted, unafraid
Of any step that I have made;
To be without pretense or sham
Exactly what men think I am.
To leave some simple mark behind
To keep my having lived in mind,
If enmity to aught I show,
To be an honest, generous foe,
To play my little part, nor whine
That greater honors are not mine.
This, I believe, is all I need
For my philosophy and creed.