Welcome to another Motivational Monday Blog Hop. I hope you have a wonderful day, share your motivation and inspire someone!
Check out the wonderful Motivational videos that are truly inspiring at the end of this blog! Now on to the Motivational Monday Blog Hop.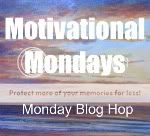 Hosted By:
What's On My Mind
The Rules for Motivational Mondays:
1. Share a motivational, inspiration poem, quote, story, or video.
2. Add your blog to the list.
3. Grab the button & the link code to post on your blog.
4. Follow me your hostess What's On My Mind, then as many other blogs as you would like.
5. After you follow a new blog make sure you leave them a comment letting them know that you are now a follower so that they can follow you back, and please follow others back if they leave you a comment that they follow you.


~~~~~~~~~~~~~~~~~~~~~~~~~~~~~~~~~
The Best of Success
Finish Strong
Push... it matters!
To all you successes in life! Have an inspired day!
Jen McLennan
You may also want to follow: