Happy Friday everyone! Here's the Friday Blog Hop: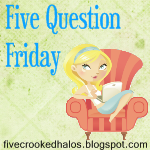 1. H
ave you ever forgotten your child in a store or at school?
2.
Where did you go on your very first date? (Like...first first, not first with your spouse or current significant other!)
3.
What's your "silly" fear?
(We're not talking water and heights.)
4.
Confrontation: do you cause it, deal with is as it comes, or run far far away?
I usually deal with it as it comes.
5.
Wood floors or carpet?
Wood floors most definitely!!!!! Carpet traps dirt and never is really clean.
Have a great weekend!