Five Question Friday Blog Hop!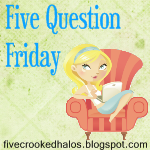 1. Have you ever testified in court? For what?
No I haven't. Got called for jury duty a few times, but they got canceled.
2. Do you still have your wedding dress?
Yes, from both weddings. I saved my first one just in case my daughter wants it.
3. Is there a special place you like to go when you're happy, sad, stressed, etc.?
In the summer, my trailer. I forget all the worries at home and relax and have a good time. In the winter my bedroom, nice quiet place to be.

4. If you have kids, do they sleep with you? If you don't have kids...will you let your kids sleep with you when/if you have them?
No my kids are too big to sleep with me. When they were little on occasion they slept with me.
5.
Do you watch late night TV?
Sometimes, if I'm not tired.
Still want to hop? Check out: