Hello everyone! Welcome to the Motivational Monday Blog Hop! I hope everyone had a wonderful weekend.
Now it time to start the "Monday Motivational Blog Hop!" Everyone can use a little Motivation, especially on a Monday. So get on the Motivational Monday Blog Hop and share some Motivation with others. Plus it a great way to get new followers to your blog and to find some great blogs out there as well.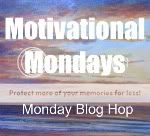 Hosted By: What's On My Mind
The Rules for Motivational Mondays:
1. Not mandatory but please share a motivational, inspiration poem, quote, story, or video. What ever you think might bring some inspiration or motivation to others.
2. Add your blog to the list.
3. It would be great if you could grab the button & the link code to post on your blog.
4. Follow me your hostess above, then as many other blogs as you would like.
5. After you follow a new blog make sure you leave them a comment letting them know that you are now a follower so that they can follow you back, and please follow others back if they leave you a comment that they follow you.
OK, NOW BEFORE YOU LINK UP AT THE BOTTOM, HERE IS A GREAT VIDEO MOTIVATIONAL POEM FOR YOU!
Climb 'Til Your Dream Comes True
by Helen Steiner Rice
Often your tasks will be many,
And more than you think you can do.
Often the road will be rugged
And the hills insurmountable, too.
But always remember,
The hills ahead
Are never as steep as they seem,
And with Faith in your heart
Start upward
And climb 'til you reach your dream.
For nothing in life that is worthy
Is ever too hard to achieve
If you have the courage to try it,
And you have the faith to believe.
For faith is a force that is greater
Than knowledge or power or skill,
And many defeats turn to triumph
If you trust in God's wisdom and will.
For faith is a mover of mountains,
There's nothing that God cannot do,
So, start out today with faith in your heart,
And climb 'til your dream comes true!
OK now link up on the Monday Motivational Blog hop and have a great day!