Happy Friday everyone! Time for Five Question Friday Blog Hop!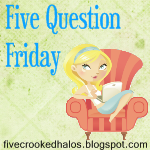 Rules for Five Question Friday
: Copy and paste the following questions to your blog, answer them, then watch for the
linky
to appear Friday morning! And most of all...have fun!!
1. Do you know what your REAL hair color is?
Blonde and unfortunately Grey.
2.
Do you plan ahead for summer, or fly by the seat of your pants?
Fly by the seat of my pants. I however plan on one week at the trailer with the kids. Unfortunately my husband works in construction, so summer holiday is out of the question for him. We have never had a holiday together :(
3. What is your favorite meal to cook?
Chicken Rice Casserole because it's so easy and so good and all in one dish!
4. Do you get offended by not receiving thank yous?
5. How did you meet your best friend?
Make everyday a great day!