This is one of my favorite blog Hop, just because it's fun and it's a way to get to know people and there blogs.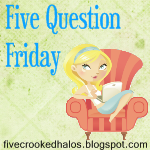 1. If you had a weekly newspaper column, what would you name it?


Motivational Monday of course.


2. Who is your mentor/inspiration?


My mentor for work is Rebecca Malcolm.
My mentor for life is my mother.
I have too many to count as for who inspires me, there is many!


3. What is your wake up beverage of choice?


COFFEE, COFFEE, COFFEE


4. Would you wear your mom's clothes?


Maybe when she was much younger, but now NEVER! She is 68, and some of her outfits are just plain bad. Sorry mom!


5. When you were a kid, did you put posters on your wall? If so, what were they of?
Yes I did have poster on my wall, wow can't remember who they were, I guess what ever heart throb that was popular at the time. Oh I do remember that I had a poster of Gary Carter. He was a catcher for the expos baseball team. He had a lot of 7-up commercials with his daughter at that time and was real popular.
Happy Friday everyone & Have a great weekend!