Well I hope everyone had a great weekend! Mine was interesting. Friday was my Wedding Anniversary, so my husband took me out for supper at
Red Lobster
. Yum, we love seafood. We only go on special occasions because it's so expensive, and when your raising a family we consider it a luxury. We did have a very nice waiter, so friendly and very attentive. When he found out that we were celebrating our anniversary he didn't charge us for our Langostino and Lobster Bisque, and at $5.99 a cup that took a chunk of the bill. To say the least he got a very good tip.
My husband also took me away for the weekend, it was nice just the two of us, it doesn't happen very often. Although I did suffer from a migraine most of Saturday, so we spent a lot of time in our hotel room while I was recovering. The most interesting part of the weekend was that my daughter Jami and grandson Broly moved in. Yep you read it right. If my house wasn't crowded enough, but it's only for a few months to help her get back on track with money and things after her break up. It should be an interesting few months, but it is for the best.
Oh well that is enough about my weekend. Let's get on the hop, that's what you are here for.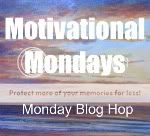 "Monday Motivational Blog Hop!"
Everyone can use a little Motivation, especially on a Monday. So get on the Motivational Monday Blog Hop and share some Motivation with others. Plus it a great way to get new followers to your blog and to find some great blogs out there as well.
Click Here to continue...............