Well I hope everyone had a great weekend. We sure did as a family, and today my grandson Brolly was here all day, while his mom was at work. We had a blast! Grandpa and Brolly were having so much fun in the morning they both had to have an afternoon nap. LOL
Well let's get this hop going!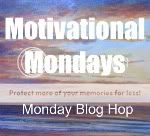 "Monday Motivational Blog Hop!"
Everyone can use a little Motivation, especially on a Monday. So get on the Motivational Monday Blog Hop and share some Motivation with others. Plus it a great way to get new followers to your blog and to find some great blogs out there as well.
Click Here to continue...............