This is one of my favorite blog Hop, just because it's fun and it's a way to get to know people and there blogs.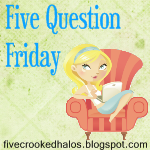 Happy Friday! Here we go!
1. Dream job...realistic and completely unrealistic.
Realistic: My dream job is the one I am already doing! I love what I do, and love working from home and all the benefits that go along with it!
Unrealistic: A Singer! I can't sing very well except for maybe in church, so very unrealistic. I love music and how it make people feel, that why I thought of that.
2.
Do you fart in front of your significant other?
I don't try to make a habit of it, but it does happen.
3.
What's the furthest you've ever traveled from home? How far and where was it?
Las Vegas. I have been there 3 times, before I had children, haven't really traveled since. From Stratford, Ontario Canada (Where I live) that is approximately 3481km or 2163 Miles. Thankfully we always drove to Michigan and flew from there.
4.
How do you celebrate birthday for your kids? Family only or friends? ... Alternate for those without kiddos: How did you celebrate birthdays as a kid?
When the kids were little we would have both and celebration with a kid party and than one with family. Now that they are older we just celebrate with family.
5.
Fave thing about fall?
I love the colour of the leaves, the smell in the air.
Happy Friday everyone! Have an awesome weekend!