This is one of my favorite blog Hop, just because it's fun and it's a way to get to know people and there blogs.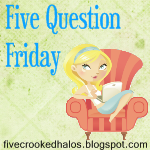 1. Do you apologize to your kids if you're wrong?
Yes! I certainly do. I believe it's important to apologize and admit when you are wrong to everyone.
2. Do you have a class ring, Letterman's jacket, or similar obscenely priced high school "must have"?
No. I have a few year books that it. My daughter how ever wants a school band jacket for Christmas, and we do plan on getting it for her, since she is in 3 bands at school and it's very important to her.
3. If you could be one age for the rest of your life, what age would you choose?
35. It was the age I turned just after starting to date my husband. It was a wonderful magical year. I love where we are today and love him more and more everyday, but that first fall in love feeling is so wonderful :)
4.
What is your favorite (unused) baby name?
For a girl it is Tori, and for a boy it is Christian.
5. I
f you could make your child like something what would it be?
All fruits and vegetables. Especially for my daughter Mariah, she HATES fruit.
Have a wonderful weekend!