Five Question Friday Blog Hop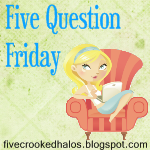 .
Rules for 5QF:
Copy and paste the following questions to your blog post, answer them, then watch for the linky post to appear on Friday morning! And the biggest rule of all...the most important rule...the one you must follow to a "T": HAVE FUN!!
1. If you had $1,000 to donate to a charity, which would you choose?
The Ronald McDonald House (Hamilton). My cousin's family used it a lot as she had a sick child that was in and out of the hospital. They did a lot for her. He died last Saturday in the hospital, he was only 11 years old. I have already donated money their and would do it again.
Hamilton's Ronald McDonald House is located just steps away from McMaster's Children's Hospital . With the support of our community and our wonderful volunteers, we provide seriously ill children with the one thing they need most…their family.
2.
Snow days: Do you welcome them happily or are they a pain in your butt?
Pain in the butt. We rarely get snow days, the schools never seemed to close and expect the kids to get there in a storm.
3.
What talent did you wish you had and why?
I wish I could be a great singer. I wouldn't sing professionally, I just like to sing and wish I was better at it.
4.
Are you a news, politics or celebrity gossip junkie?
None of the above. I regularly check the news, but I like a little of all the above. Politics usually make me frustrated.
5. What is your favorite "cocktail"? (Are you a beer person, a kiddie cocktail junkie, or perhaps your more the "Cosmo" kind?! Anything flies...doesn't
hafta
be alcoholic!
Well, what I drink the most of is coffee. Athough I do enjoy a coctail once in a while. I love White Russians (Kaluha,Vodka & Milk over ice). I also like Harvey WallBangers.
One more Blog Hop I follow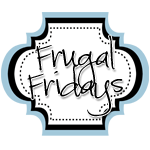 1. Follow "The Frugal Free Gal" and "Inspiring You 2 Save"
2. Add your blog link.
3. Follow any blogs below that you are interested in.
4. Tweet this blog hop as active so we can get others on board!
5. Grab the "Frugal Fridays" Button for your blog.
6. Grab the linky code and place it on your blog in a new post.