Motivational Monday Blog Hop

!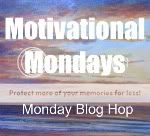 .
Hosted By: What's On My Mind
The Rules for Motivational Mondays:
1. Not mandatory but please share a motivational, inspiration poem, quote, story, or video.
2. Add your blog to the list.
3. It would be great if you could grab the button & the link code to post on your blog.
4. Follow me your hostess above, then as many other blogs as you would like.
5. After you follow a new blog make sure you leave them a comment letting them know that you are now a follower so that they can follow you back, and please follow others back if they leave you a comment that they follow you.
Today I'm going to share a really great Motivational Poem:
Don't Quit
(one the most classic motivational poems)

When things go wrong as they sometimes will;
When the road you're trudging seems all uphill;
When the funds are low, and the debts are high;
And you want to smile, but you have to sigh;
When care is pressing you down a bit
Rest if you must, but don't you quit.
Success is failure turned inside out;
The silver tint of the clouds of doubt;

And you can never tell how close you are;
It may be near when it seems afar.
So, stick to the fight when you're hardest hit -
It's when things go wrong that you mustn't quit
-- Berton Braley
~~~~~~~~~~~~~~~~~~~~~~~~~~~~~~~~