Everyone can use a little Motivation, ecpecially on a Monday. So get on the Motivational Monday blog hop and share some Motivation with others. Plus it a great way to get new followers to your blog and to find some great blogs out there as well.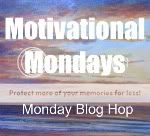 Hosted By: What's On My Mind
The Rules for Motivational Mondays:
1. Not mandatory but please share a motivational, inspiration poem, quote, story, or video.
2. Add your blog to the list.
3. It would be great if you could grab the button & the link code to post on your blog.
4. Follow me your hostess above, then as many other blogs as you would like.
5. After you follow a new blog make sure you leave them a comment letting them know that you are now a follower so that they can follow you back, and please follow others back if they leave you a comment that they follow you.
Here's a motivational poem:
The Emperor's Seed
If you plant honesty, you will reap trust.
If you plant goodness, you will reap friends.
If you plant humility, you will reap greatness.
If you plant perseverance, you will reap victory.
If you plant consideration, you will reap harmony.
If you plant hard work, you will reap success.
If you plant forgiveness, you will reap reconciliation.
If you plant openness, you will reap intimacy.
If you plant patience, you will reap improvements.
If you plant faith, you will reap miracles.
If you plant dishonesty, you will reap distrust.
If you plant selfishness, you will reap loneliness.
If you plant pride, you will reap destruction.
If you plant envy, you will reap trouble.
If you plant laziness, you will reap stagnation.
If you plant bitterness, you will reap isolation.
If you plant greed, you will reap loss.
If you plant gossip, you will reap enemies.
If you plant worries, you will reap wrinkles.
If you plant sin, you will reap guilt.
OK NOW LINK UP TO THE HOP!!!!