This is one of my favourite blog hops!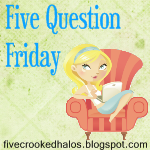 Welcome to Five Question Friday! An easy, peasy way to start off your weekend...and a fun way to get to know random facts about your fellow bloggers!
Rules for 5
QF
: Copy and paste the following questions to your blog post, answer them, then watch for the
linky
to appear Friday morning! Oh, and HAVE FUN!!
1.
What movie could you watch over and over again and not get tired of?
A Walk To Remember
2.
What's your biggest pet peeve right now?
People that don't follow through on what they say they are going to do.
3.
If you had to describe your best friend in five words or less, what would you say?
Always there when I need her.
(I guess that's 6, oh well)
4. I
f you did not have to worry about money or go to school what would you do for a living?
What I'm doing now. I love my business and I love working from home. It's very rewarding.
5. What is your one "splurge" item, that you will always buy, no matter the cos
t?
My organic free trade coffee.
Have a hopping good Friday!