I hope everyone had a wonderful weekend! Now it time to start the week off with some Motivation with Monday Motivational Blog Hop!

Everyone can use a little Motivation, especially on a Monday. So get on the Motivational Monday Blog Hop and share some Motivation with others. Plus it a great way to get new followers to your blog and to find some great blogs out there as well.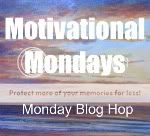 Hosted By: What's On My Mind
The Rules for Motivational Mondays:
1. Not mandatory but please share a motivational, inspiration poem, quote, story, or video. What ever you think might bring some inspiration or motivation to others.
2. Add your blog to the list.
3. It would be great if you could grab the button & the link code to post on your blog.
4. Follow me your hostess above, then as many other blogs as you would like.
5. After you follow a new blog make sure you leave them a comment letting them know that you are now a follower so that they can follow you back, and please follow others back if they leave you a comment that they follow you.
OK, NOW BEFORE YOU LINK UP AT THE BOTTOM, HERE IS AN INSPIRATIONAL STORY THAT I WANT TO SHARE WITH YOU.
Today I want to share an inspirational story that comes from the television show EXTREME MAKEOVER Home Edition on ABC. It was aired tonight and was an inspirational story of a family that lost their daughter to a TEXT and Driving accident and now they dedicated their lives in educating others in hope to save their lives.
Here's there story from:
http://abc.go.com/shows/extreme-makeover-home-edition/rab-pledge
Remember Alex Brown
Take the pledge to not text and drive.
Seventeen-year-old Alex Brown epitomized the All-American girl -- beautiful, smart, vivacious and beloved by everyone who knew her. Tragically her life and her dream of a career in broadcast journalism were cut short: In November 2009, she was killed in a single car accident. Those left behind include Alex's brave parents and her amazing younger sister. Dedicated to making sure no other family suffers such heartbreaking loss, the Browns turned their tragedy into something constructive, and today they travel around Texas to local high schools with Alex's wrecked truck on their flat-bed trailer to remind young people of the dangers of distracted driving. Their goal is simple: They want to save lives. Join their effort by taking the pledge today.
Print out the pledge, sign it and remember Alex Brown.
OK are you going to take the pledge? I know I did, and I'm going to make sure my children do as well.
OK now link up on the Monday Motivational Blog hop and have a great day!