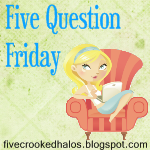 1. What is your current favorite book, and why?
Marley and Me. Just loved that book, it was so cute, funny and made me cry. It helps that I love dogs.
2. Do you go to the dentist regularly?
3. What is your worst memory from High School?
Fighting with friends over something stupid.
4.
What do you hope to be remembered for in your life?
A really great, kind Mom, Friend, wife and all around person.
5.
Are you superstitious or do you have any superstitions?